Contact On Hold Providers

On Hold Providers Has The Experience
On Hold Providers has over 60 years of sales and marketing experience. We provide you with all the necessary ammunition needed to take advantage of the golden opportunity you receive when your callers are put on hold. Rarely will your company have the undivided attention of your target audience.

Customer Care
It is our mission to provide our clients with a professionally produced, cost effective and result driven marketing tool. A product specifically designed for your company and generated from both experience and expertise. Contact us for additional information or to get started.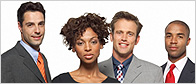 Meet Our Voices.
On Hold Providers features a diversified voice talent bank allowing our customers to match a professional and appropriate voice to their business.
View our talent database

Pete
Pete is an experienced multi-media voice talent....
More

Joyce
Joyce is a voice over veteran and has several years...
More